NGC 5907
Spiral galaxy NGC 5907 (= H II.759), type Sb+, in Draco

Splinter Galaxy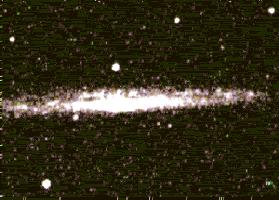 | | |
| --- | --- |
| Right Ascension | 15 : 15.9 (h:m) |
| Declination | +56 : 19 (deg:m) |
| Distance | 40,000.0 (kly) |
| Visual Brightness | 10.38 (mag) |
| Apparent Dimension | 12.3 x 1.8 (arc min) |
Discovered 1788 by William Herschel.
Besides M102 candidate NGC 5866, this is the second prominent member of the NGC 5866 group. As it is seen almost exactly edge-on, and is an extremely flat disc, it appears extremely elongated, shaped like a "knife edge" or a splinter, therefore its popular name.
William Herschel discovered this galaxy together with NGC 5866 and several fainter galaxies in this celestial area on May 5, 1788, and cataloged it as H II.759.
Supernova 1940A, which was discovered by Johnson, occurred in NGC 5907 on February 16, 1940 and reached magnitude 14.3 (see PASP 52, 146).
Image by John Sefick, taken with a 25-inch Newton and a ST-6 CCD camera. View his photos of NGC 5907 and NGC 5866 side by side, or all his photos of NGC 5907.